Need an Expert Plumber, Drain Cleaner or Sewer Service Near You? 
We have over 80 years of experience serving the Denver–Aurora–Lakewood Metro Area.
WE SPECIALIZE IN PLUMBING, SEWER SERVICES & DRAIN CLEANING
PLUMBING, DRAIN AND SEWER CLEANING FOR YOU!
Since 1940, Garvin's Sewer Service has become a mainstay of the Denver business district. We were the first drain cleaning company in Denver, and we have stayed true to our roots and continue to specialize in drain cleaning and sewer service. Over the years, our services have expanded to plumbing maintenance and repairs.
We're a family-owned business, currently in the third generation of ownership. We treat our customers fairly and honestly the way we want to be treated. As a result, 70% of our customers come from referrals. We even have third-generation customers!
When you need a reliable, professional plumber, drain cleaner, or sewer service, you know that you can count on us. Over the last 80+ years, we've become known for our:
If you need emergency plumbing repairs, drain cleaning or sewer service,  fill out our Speedy Fast® Quote or call us!
EMERGENCY DRAIN CLEANING
Kitchen or Bathroom sink draining slow? We'll clean that and garbage disposals, bathroom tubs and other secondary lines so they run like new.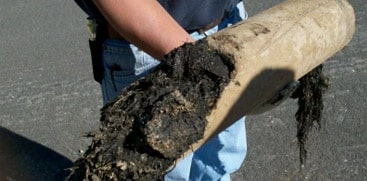 VIDEO SEWER SCOPE
Not sure if you need service? We offer FREE 2nd opinions and video of your Sewer scope. We'll save you money on this top of the line service!
PLUMBING SERVICES
When something goes wrong with your plumbing, you want it fixed quickly! Garvin's does all types of plumbing repairs. Contact us today for a Speedy Fast® Quote!