Do You Have Plumbing, Sewer, or Drain Issues?
Since 1940, we have been solving the problems no one else can.
CALL US AT 303-571-5114 TO GET A QUOTE OR SCHEDULE SERVICE
Quick Service, High-Quality Work, & Affordable Prices
Garvin's Sewage Service has been a fixture in Denver since 1940. Our company was the first to offer drain cleaning services in Jefferson County and the surrounding area. We've remained true to our principles and continue to focus on providing sewage and drain cleaning services. We have added plumbing maintenance and repairs to our list of services, as well. Just as we like to be treated, we are fair and honest with our clients. As a result, referrals account for 70% of our clientele.
CUSTOMERS CALL ON GARVIN'S FOR OUR:
DRAIN CLEANING
Kitchen or bathroom sink draining slowly? We can make it run like new! From garbage disposals and tubs to secondary lines.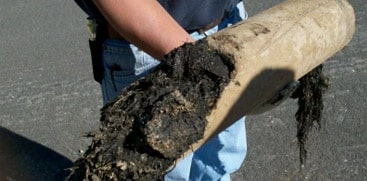 SEWER SERVICES & SEWER SCOPE
Think your sewer line needs service? Schedule an inspection. We use a video sewer scope to check the pipe. We offer 2nd opinions for FREE.
PLUMBING SERVICES
Having plumbing problems? We can fix it quickly! Call us for plumbing maintenance and repairs. Get a Speedy Fast® Quote today!