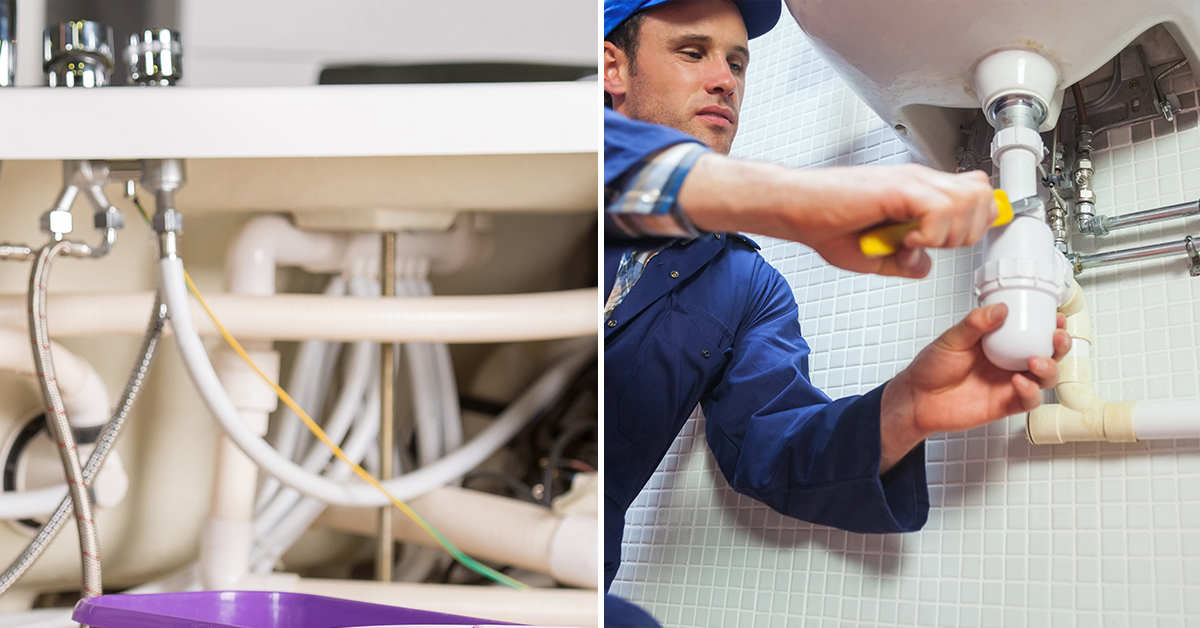 About a year ago we wrote a blog about the many materials that have been used over the years as sewer pipes. The most common types of materials that have been used through the ages are clay, concrete, Orangeburg (wood pulp and tar), transite (concrete and…gulp…asbestos), and cast iron. Each of these had their place in the world during the time they were used, and there's no doubt that you'll still see some of them in use for larger projects; we often drive by large-scale plumbing projects with huge concrete sewer pipes.
When it comes to home pipes, almost all wastewater plumbing pipes are made from plastic. And while plastics often get a bad reputation because of the amount that we use once and throw away (water bottles, for example), plastics have amazing properties that make them the ideal choice for certain applications in plumbing. PVC, also known as polyvinyl chloride, is the third most widely used plastic in the world. You might touch it when you push on your home's screen door, use it when you swipe your bank card, or cut through it when you destroy the packing on a new toy.
Why use PVC? Let's take a look a the advantages of PVC pipes as it's used in household plumbing.
It's Flexible
The types of PVC used in sewer applications is often called RPVC, with the "r" meaning "rigid." So when we say that PVC pipes are rigid, they are indeed solid and won't bend when you pick one up. But they are somewhat flexible when they are underground. This is important when soil is placed above a sewer line, allowing the pipe to bend a little in circumstances where concrete pipes might break. It's also important that they're slightly flexible as the ground settles and shifts over the years, or as tree roots try to push them out of the way.
It's Lightweight
Another great advantage of PVC pipe is how light it is. This means it takes fewer workers to install PVC pipes. A single worker can carry a long length of PVC pipe, while it might take many workers and heavy machinery to get steel or concrete pipes into place. There's also less fuel used to transport lightweight PVC pipes when compared to other types of materials.
It Lasts
The fact that plastic sticks around for thousands of years can be bad for the world. After all, the future doesn't need billions of straws to deal with. But when it comes to your plumbing, you want it to last as long as possible. Metal pipes will rust, concrete pipes can give out under shifting soils, and the less said about the longevity of Orangeburg, the better! PVC won't rot or disintegrate, and even the most ardent environmentalist should be pretty happy that the PVC pipes stand up to the rigors of sewage so that the tree in their front yard doesn't have to be ripped up during sewer pipe replacement!
It's Watertight At Joints
What's one thing you don't want in your plumbing system? Leaks. Push two pieces of PVC together and they form a tight bond. Put some plastic cement at the point of contact and they become more watertight than any other type of pipe.
It's Smooth Inside
You want your water to enter you house and leave your house as quickly as possible. You also want everything else you send down to have a fast trip out of your life…toilet paper and human waste, for example. PVC is the smoothest of pipes, allowing everything to move freely on its way. If a clog can't get started, it can't grab other detritus and cause the need for drain cleaning.
It's Non-Toxic
PVC is the most researched plastic in the world, and is found to be non-toxic. And considering that it's mostly used for wastewater that you have no contact with, it's really not an issue anyway.
Making Joints Is Easier
If you've ever done any pipe fitting with metal, you know how difficult even the most simple joint can be. If you're not a master with solder, it can lead to big messes and even injuries. PVC joints are considerably less labor intensive; it's easy to cut and easy to join. Under-sink pipes are easier to assemble (and disassemble, in the case of drain cleaning) than ever before.
While it would be great if the world would use less of some types of plastic, it's pretty obvious that some plastics serve a purpose that's hard to rival. PVC has been used for sewer purposes for more than 50 years here in Denver, and Garvin's Sewer Service has been cleaning them for just as long. While the problems are few, every sewer system is going to have the occasional hiccup. When this happens, give Garvin's a call!
Garvin's Sewer Service
https://www.garvinssewerservice.com/wp-content/uploads/2023/07/Garvins-Logo-Navy-2023-300x147.png
Garvin's Sewer Service
2017-01-15 14:35:07
2017-03-09 19:49:46
What is PVC, and Why Is It So Amazing?