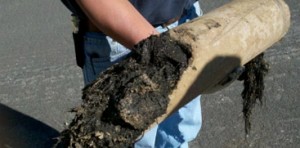 Here at Garvin's, we have to wince every time we drive by someone's house and see that they're having their entire sewer line replaced. We hope the homeowner took every step possible before they devoted themselves to such an endeavor, and that the company that they've chosen to replace their sewer line is one of the reputable ones. Far too many people are talked into sewer replacement even when they might not need it. Customers should know that there are sewer camera options that might tell you that you don't even need your line replaced.
If you have another option to sewer replacement, you'll probably want to take it. Sewer replacement can disrupt your life in so many ways. Here are some of the problems you should try to avoid if possible.
Save your lawn: Having your sewer line replaced wreaks havoc on your lawn. And it's not just the obvious line that has to be dug out directly above your sewer line, either. You also have to deal with the tracks the backhoe leaves, which not only destroys your grass but also compacts the ground under its treads, preventing oxygen from reaching roots and making it harder for anything to grow there. Backhoes can also crack your sidewalk, and it's unlikely the sewer line replacement company will take responsibility for it.
Save your trees: If the tree roots were the original cause of the pipe breakage and rooter service didn't work, it might actually be unavoidable and advisable to remove the tree, especially if it's of a species known to be particularly aggressive against sewer pipes.
The real problem would be if you lose the tree because it's simply in the way. Losing a tree because it was planted in the wrong spot and has to be removed during sewer replacement can be heartbreaking.
Even if the tree is not fully removed, its health can be affected if too many of its roots are removed during the sewer replacement. Yet another reasons to avoid complete sewer replacement if possible.
Save your money: Sewer line replacement is one of the most expensive replacements that you have to undertake on your house, made all the worst by the fact that most insurance plans aren't going to recover replacement. Imagine the cost of replacing your furnace, and then doubling it! The average sewer replacement costs between $5,000 and and $13,000, which is a house cost that almost no one is ready for. You'll probably be paying for it for years.
What's all this mean? Avoid sewer replacement if at all possible! First, if you're having problems with your sewer and regular rooter service isn't working, let Garvin's employ our sewer camera and we can give you an unbiased, third party review of your sewer line's health with our sewer scope. There's always the chance that there's a complete break and you'll have to have everything replaced, but if you can avoid it it's a good idea to have all of your options. Contact Garvin's at the first sign of trouble!
https://www.garvinssewerservice.com/wp-content/uploads/2023/07/Garvins-Logo-Navy-2023-300x147.png
0
0
Garvin's Sewer Service
https://www.garvinssewerservice.com/wp-content/uploads/2023/07/Garvins-Logo-Navy-2023-300x147.png
Garvin's Sewer Service
2016-03-01 17:43:43
2016-03-01 17:43:43
Top 3 Reasons You Want To Avoid Sewer Replacement