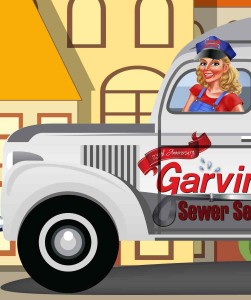 Here's something that's not a secret, even though we don't like to admit it…when it comes to sewer cleaning in Denver and its suburbs, there's more than one company you can go to for rooter service. Not really shocking, is it? So you might wonder why so many people choose Garvin's Sewer Service when every drain in their home is running slow and rooter service and drain cleaning seem inevitable. Here are just a few of the reasons.
We've been at it for over 75+ years: Here's the big one…we were the first sewer cleaners in Denver, and we're still here. We started in 1940, so the new year will mark our 76th year serving Denver, its suburbs, and other nearby towns including Littleton, Arvada, Aurora, Longmont, Cherry Creek, Westminster, and just about every place in between. We're now on our third generation of family owners and employees, because we've built a business that's necessary and respected in the community. We started in the Golden Triangle neighborhood in Denver, but in 2001 we moved to Englewood in order to have a more space and a central headquarters (with a bit less traffic) to serve the Front Range.
Of course, a company doesn't survive for more than three-quarters of a century without learning a few things, such as…
Respect for the customer: How long does a company last if they treat their customers poorly? Not long, and we've seen many companies come and go over the years who just didn't know how to treat the customers right. They might charge for service only to have the problem return, or overcharge when the customers were at their most vulnerable.
At Garvin's Sewer Service, we've outlasted those other sewer cleaners because we've always treated customers and their homes with the utmost respect, and that goes for every one of our employees. When you do that, you're going to get…
Excellent Word Of Mouth: It's not just because we've been around so long that you've heard of Garvin's Sewer Service…it's that people are talking about us. That's because Garvin's has changed with the times when it comes to customer service, delivering the absolute best available.
We've got the right equipment, and we know how to use it: Much as we've stayed with the times in regards to customer service, we've also kept up-to-date with the equipment we use. We've got the right equipment for your job, no matter whether you live in a 1,000 square-foot house with 100-year-old plumbing or need commercial sewer cleaning for a highrise with 200 toilets. We have the classic rooter service machines as well as the most state-of-the-art sewer jetters and sewer cameras. We know how to best deal with your plumbing and will bring the right equipment to clean your drains and sewer lines.
We've been doing this for a while, so we know how to deal with clogs, roots, and the worst of what people send down the drains. When you need the best in rooter service, give Garvin's a call!
https://www.garvinssewerservice.com/wp-content/uploads/2023/07/Garvins-Logo-Navy-2023-300x147.png
0
0
Garvin's Sewer Service
https://www.garvinssewerservice.com/wp-content/uploads/2023/07/Garvins-Logo-Navy-2023-300x147.png
Garvin's Sewer Service
2015-12-06 22:01:40
2015-12-06 22:01:40
4 Reasons People Call Garvin's For Rooter Service