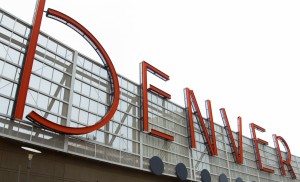 Nearly every one of our blogs is all about helping you. We either try to help you with blogs offering service like "Get Preventive Sewer Drain Cleaning and You Can Avoid The Horrors Of A Backup" or with advice on what you can do like "3 Cheap Things You Can Do To Prevent Frequent Drain Cleaning."
Some of the blogs have been about helping you take care of your own plumbing concerns, while others have been about what we can do to help you when you can't help yourself. We're your neighbors, and we want to help you take every step that can avoid you having raw sewage backing up on the lowest level of your home.
A few of the blogs have even been about Garvin's Sewer Service as a company. So every so often we like to bring up some of our accomplishments in hopes that you can feel confident about us in an industry that some people distrust.
We've been around for a long time: Garvin's just celebrated its 75th anniversary in 2015. We were the first professional drain cleaners in Denver and have seen tons of competition come and go. You don't survive in this business unless you do good work and learn how to treat your customers right.
We have over 30 staff: Garvin's started in 1940 as a tiny business and has grown ever since. We currently have a staff of over 30, and over the decades have employed hundreds of people. We're proud of the fact that our growing business continues to provide for Denver residents and their families. (If you think you'd make a good addition to the Garvin's family, contact us here)
Helping the community: Garvin's started in the Golden Triangle and moved to Englewood in order to have more space (and less traffic so that we could get to emergency sewer cleaning calls throughout the Denver area that much faster). As we've grown, we've become more and more active in the community. We sponsor a youth football team in Aurora (Go Centaurs!), are members of the Better Business Bureau and the Mile High Alliance. We help in community events like toy drives and benefits. We all work here, but we also live here, and we do whatever we can to make the Denver area better.
Female leadership: Garvin's is currently run by a triumvirate of sisters who grew up around the business, making Garvin's a third generation company. We believe that a change to female leadership has helped us continue to thrive, and we doubt you'll find many plumbing and sewer cleaning business helmed by women. Find out more about Plumbing Girl right here.
We hope these will give you a great feeling about Garvin's and understand that we're here to help. We have all those decades of experience behind us, and thousands of customers who have used us time and again. Need reliable, honest sewer drain cleaners? Trust in Garvin's!
https://www.garvinssewerservice.com/wp-content/uploads/2023/07/Garvins-Logo-Navy-2023-300x147.png
0
0
Garvin's Sewer Service
https://www.garvinssewerservice.com/wp-content/uploads/2023/07/Garvins-Logo-Navy-2023-300x147.png
Garvin's Sewer Service
2015-11-19 19:10:49
2015-11-19 19:10:49
A Bit Of Bragging About Our Top-Rated Sewer Drain Cleaning Business