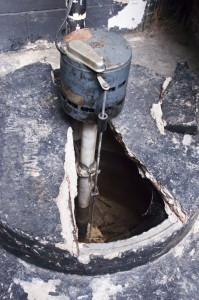 As we saw in Longmont and Loveland a few years ago, 500-year floods just aren't what they used to be…they're showing up every few decades! That's why it's important to always be prepared.
It's possible that you have a sump pump in your house that you've never used. Maybe it was there when you moved in, maybe you had one installed after the last flood in your area. Have you tested it recently, and do you even know if it will work in an emergency?  Call Garvin's and we can take a look at it.
Sump Pump Maintenance: Sump pumps aren't too complex, but they are machines that might require some maintenance. If you think yours might be a bit rusty and aren't sure if it's giving you 100% of the work you'll need, call us.
Sump Pump Installation: If there's any chance whatsoever that your basement might become flooded, a sump pump is a good idea. In reality, any basement is at risk from flooding, not just from a flash flood but also from burst pipes, water backup, and window wells filling up with water and breaking.
Sump Pump Repair: You know the only thing worse than not having a sump pump? Having one and knowing that a simple fix could have saved your basement. A sump pump that isn't working might as well not even be there. If it isn't working, you could be at the mercy of any water that gets into your basement, which could end up costing you thousands of dollars. Get your sump pump repaired!
If you need sump pump repair, maintenance, or installation, call us! We're the ones who want to get the water out of your house, so be sure to call the experts who can help you be prepared!
https://www.garvinssewerservice.com/wp-content/uploads/2017/02/logo.jpg
0
0
Garvin's Sewer Service
https://www.garvinssewerservice.com/wp-content/uploads/2017/02/logo.jpg
Garvin's Sewer Service
2015-10-15 18:09:33
2015-10-15 18:09:33
Need Sump Pump Repair? Don't Let It Go Another Day!