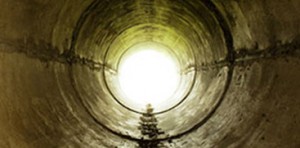 There's an idea that's been brewing in my head for many years…it's a car mechanic that doesn't fix cars. Let's call him Phil.
Now, here's the idea. Imagine you have a regular mechanic and he says "what you need is a $1,200 repair." Then you take it to Phil, and he says "yep, that's about right." Or "nope, replace that gasket for $150 and you're in the clear." Phil charges you $50 but has saved you a $1,000. Basically, Phil is a neutral third party who can give you the truth and end up saving you lots of money.
This type of second-opinion would be great in the medical industry too…far too many doctors have a stake in the medical equipment that they're ordering tests on.
In one respect, Garvin's Sewer Service already has a service that fits this model: our free inspection of sewer camera footage that was taken by other companies.
While many reputable sewer companies use sewer scopes, there are some companies out there who will take the footage and point out perfectly normal flaws in your sewer line, then suggest that these small flaws mean you need a complete sewer line replacement. They might show you a joint and suggest that it's a break, or show you tree roots as "evidence" that your sewer line in in bad repair (when in fact it's a fairly normal occurrence).
We provide this free sewer cam second opinion because we don't want you spending $10,000 to replace a line that's perfectly fine. And since we don't replace entire sewer lines, you can rest assured knowing that we're unbiased.
Do you have a sewer scope DVD from another company and would like a free second opinion? Contact Garvin's Sewer Service today!
https://www.garvinssewerservice.com/wp-content/uploads/2023/07/Garvins-Logo-Navy-2023-300x147.png
0
0
Garvin's Sewer Service
https://www.garvinssewerservice.com/wp-content/uploads/2023/07/Garvins-Logo-Navy-2023-300x147.png
Garvin's Sewer Service
2015-09-18 17:29:57
2015-09-18 17:29:57
A Free Sewer Service That Could Save You Thousands Of Dollars: Sewer Camera Review