What do I do with my bacon grease?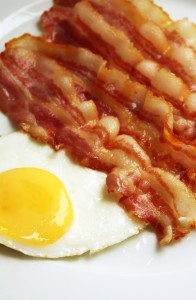 Drain cleaning service providers typically deal with the same most common clogs:
Grease
Too much slow or non-disintegrating product in the sewer line (such as wipes, tampons, paper towel and more)
Roots
Preventative maintenance can help with all these.
Instead of pouring bacon grease down the kitchen sink drain, consider these other options:
Use an old coffee can, pouring the grease in and not throwing the can away until the can is full and cool.
Reuse a plastic oil container. Do not pour hot grease into a plastic container. You can also use this method for saving oil from fried foods such as fried chicken.
Pour hot bacon grease into a porcelain cup. This is typically a coffee mug. You can store this in your fridge or freezer and use the grease in food preparation in the future.
If you DO pour the bacon grease down the kitchen sink drain, do NOT use a chemical drain product to clear the grease. Chemical drain cleaning products are designed to break down grease that builds up along the side of pipes. They typically will not clear other items that are part of the clog, such as food items.
A professional drain cleaning service can clear the drain in one of two ways. Some companies will use a mini-hydro jet or sewer jetter. These blast hot water through the pipe. Some companies will us a mini-rooter machine. These machines use blades to clear the clog. Either one works just fine, however, some residential homes can experience flooding from improper use of the hydro-jet.
Finally, it is also important to note that grease can also be a build up of soap scum and shampoo, detergent and other residues. Using a sensible about of these products and choosing cleaner products, can help with this problem and reduce your need for a drain cleaning service.
For too much or slowly disintegrating products in the line, the preventative maintenance tip would be to simply limit or stop putting those products down the drain.
For roots in the sewer line, a preventative maintenance cleaning is best in Spring and Fall. The cleaning will clear the roots from the line before you experience a back-up. Most homeowners with sewer line roots get their line serviced with preventative maintenance every 12-18 months, depending on the severity of past root problems and the number of people in the home. (More people = more frequent cleanings).
If you want to avoid calling for a drain cleaning service, you will want to consider options for preventative maintenance. If you have any questions, please call Garvin's Sewer Service at 303-571-5114, or search their other blogs for more homeowner tips.
https://www.garvinssewerservice.com/wp-content/uploads/2023/07/Garvins-Logo-Navy-2023-300x147.png
0
0
Kris Jordan
https://www.garvinssewerservice.com/wp-content/uploads/2023/07/Garvins-Logo-Navy-2023-300x147.png
Kris Jordan
2015-03-26 13:15:54
2015-03-26 13:15:54
How bacon grease down the drain can lead to you needing sewer cleaning