"It takes many good deeds to build a good reputation, and only one bad one to lose it" ~Benjamin Franklin
A news report just out exposes a competitor for selling unnecessary commercial sewer repairs. (Denver Channel 7 News, Feb. 2011) Unfortunately, we've been preaching buyer beware on this for years. Our 70 years in business is a representation of our reputation for honesty, integrity and do-rightedness :).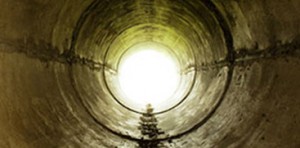 I found particularly interesting the comments below the story. I won't comment on those here other than I do agree that consumers do need to know who to hire for drain cleaning and sewer repair. Remember that every business with a large advertising budget has to re-coop that somewhere (read higher overhead=higher prices). Many consumers don't understand that we can pay $100,000 PER YEAR to complete in the phone book, $10,000+ PER YEAR to compete on a referral network list, $1000's per radio spot, plus thousands more in direct mail, fliers, tradeshows, etc.
Garvin's marketing consists mostly of reputation. We have third generation customers. We do lots of face-to-face networking. We talk, eye-to-eye with our potential customers. We get new customers from word of mouth marketing. And we've done it that way for over 70 years.
I would LOVE a sales-bonus trip to Vegas, and I'm sure my staff would too. Instead, we throw company BBQ's to reward the hard work of our staff. We send flowers to the wife of a technician who spent his weekend fixing broken furnaces instead of at home. We give gift cards to techs as thank you's. I wish we could give more, but sleeping well at night, knowing we have made a living by being fair, is more important. Our employees seem to agree: 11 of our 34 staff has been with us for over a decade.
Garvin's Sewer Service hopes to be a trusted name in the industry when it comes to sewer repair and drain cleaining. If for some reason we can't help you, we can tell you who is trustworthy and refer them. We have also created partnerships with other service providers (such as flooring, carpet care, painting, duct cleaning, restoration, landscaping etc.). If you ever have questions, please don't hesitate to call (303) 571-5114 or email: askplumbinggirl@hotmail.com
With Gratitude and Integrity,
https://www.garvinssewerservice.com/wp-content/uploads/2023/07/Garvins-Logo-Navy-2023-300x147.png
0
0
Kris Jordan
https://www.garvinssewerservice.com/wp-content/uploads/2023/07/Garvins-Logo-Navy-2023-300x147.png
Kris Jordan
2011-02-24 21:16:41
2011-02-24 21:16:41
A Good Reputation In Sewer Repair