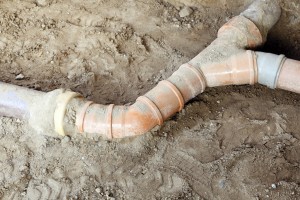 Dear Matt,
I know I talked to you about this but would like to tell you again how impressed I was with your team. You personally responded to my sewer service problem promptly and got everything moving even though it was a Friday before our last long weekend. This put a new meaning to "Labor" day that we all will not soon forget.
Brian was very dedicated as he hand-dug searching for my line for many grueling hours through not the best conditions — aka clay soil and very large tree roots. He was very careful of my plants and surrounding areas. You cannot even tell anyone was there except for the new cleanout and some exposed dirt that still needs to settle. He also did a wonderful job with the new cleanout installation.
Mike was a huge help to Brian digging when he got there and elected to be "in the hole" most of the time because he fit so well and was quite good at maneuvering in the extremely tight spot. I am sure this was one job he will not soon forget and could have done without some of his hands on learning experience that night.
Adam was our hero when he arrived and was successful in retrieving your sewer snake and then cleaning out the rest of the line to the street. I am sure it was our good luck that this did not involve any major tree roots or collapsed lines. We all breathed easier when he was through. I also appreciated that he came back and ran that part again the next morning after everything was in place.
Finally as I feel like I have met most of your staff with this experience, they were all very courteous, kept on task- even though it was a very long task. They took great care to see that very little was disturbed and put back in prime condition. You should be very pleased that these gentlemen worked so well as a team- not all companies are that fortunate to have that team effort. Most of all they made this- if possible- a pleasant experience which at one time did not look very promising. I will definitely refer any friends or neighbors to your company for sewer service in the future. Take no offense if I say you guys are great but hope I don't have to see you again in the very near future.
Thanks again,
Kay K.
Boulder, CO
You're welcome, Kay! We'll be sure to let Brian know how pleased you are!
https://www.garvinssewerservice.com/wp-content/uploads/2023/07/Garvins-Logo-Navy-2023-300x147.png
0
0
Kris Jordan
https://www.garvinssewerservice.com/wp-content/uploads/2023/07/Garvins-Logo-Navy-2023-300x147.png
Kris Jordan
2010-09-13 17:30:35
2010-09-13 17:30:35
Laborious Sewer Service