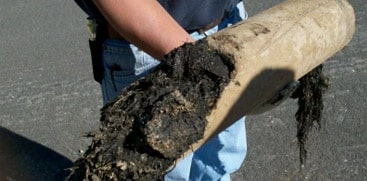 We get calls from a variety of people looking for a sewer scope inspection, which can also be called a sewer snake or a sewer camera inspection. And people really have different reasons for wanting one. The main reasons we see are addressed in the blog post "The Value of a Sewer Camera Inspection in a New Home Purchase".
In Denver, we have heard industry prices for a sewer scope inspection costs ranging from Free to around $300. That is a very large range, so I'll break down the differences from our perspective.
Free Sewer Scope Inspections.
We found some companies either offer Free sewer scope inspections for a few reasons:
It sounds like this: "We clean your sewer line and then to prove to you that we did a good job, we will send the sewer camera down the line to show you."
Our problem with this is that, if you can't trust them to clean it correctly, then why did you hire them to begin with? ALSO, see point number 2.
It is an opportunity for an "upsell" to other sewer cleaning services. Most sales profit-driven companies know that most homeowners are not aware of what their sewer lines look like and because of this, can tell them there is something wrong with the sewer line. When they do a sewer scope inspection for free, they are looking for a problem to "solve" with the help of your lack of understanding and your fat wallet.
They don't give you a copy of the DVD without a charge that makes them now enter into the Mid to High Priced range.
Mid-range ($150+) and High Priced (300+). (for 2015)

We put these in the same category because there is not a ton of difference here in what is being offered.
Understand that a sewer camera is an expensive piece of equipment and the repairs are also costly and time-consuming as they usually have to be sent out for repairs. This is what you, as a consumer are paying for when you hire for a sewer scope inspection- that and expertise.
Anyone can run a sewer camera, but not everyone is equipped to interpret what is being seen. Be sure to hire a reputable company (ones that have been in business a long time, or have online reviews or awards that corroborate their skill.)
Keep these tips in mind when you call for a sewer scope inspection:
Ask them their price. If they want to send someone out first to quote you, you will likely be charged a service call charge or the technician will attempt to sell you the service, typically at the High Priced range. Why do we say this? Because the costs involved in sending out a technician need to be recouped somehow. This is not bad, it is a business practice that is chosen by the owner or management. It is why the price can, and usually is, higher.
Ask them if they are going to provide a copy of the DVD and if that is included in the price. Some companies offer the service for a low cost and then charge extra for the DVD.
Be informed about what you will be looking at. This BLOG on Sewer Scope Scams will help with that.
Never feel pressured to take quick action. You have a right to a second opinion. Many city sewer and water departments will take a free second look at your DVD (which is why it's good to have a copy.)
If you have any questions about sewer scope inspection costs or are interested in a free second look at your DVD, please call Garvin's at (303) 571-5114 and ask for Mitch.
https://www.garvinssewerservice.com/wp-content/uploads/2017/02/cta-2a.jpg
181
367
Kris Jordan
https://www.garvinssewerservice.com/wp-content/uploads/2023/07/Garvins-Logo-Navy-2023-300x147.png
Kris Jordan
2015-04-18 21:09:40
2020-01-27 22:00:18
How much does a sewer scope inspection cost?