Every once in a while we have customers call us complaining that the drain cleaning service we provided broke their drain line. Because of this, I wanted to give more information about the dangers of drain cleaning to help homeowners, property managers and the like, better understand the process and impacts of drain cleaning.
How is Drain Cleaning Performed?
At Garvin's Sewer Service, we use a Roto-Rooter(r) machine. This machine consists of a cable with blades on the end. When the machine is plugged into a power source, the technician uses a pedal to control the power as he guides the cable through the pipe.
A Little History of the Drain Cleaning Machine
The Roto-Rooter Franchise developed the machine used for drain-cleaning and it has been used for over 80 years. Garvin's started as a franchisee of this organization and uses this type of machine still today. On average, we clean 40 drains per day, 365 days a year, and have for over 80 years. We aren't the only one. Hundreds of thousands of drains are cleaned every year by thousands of drain-cleaning companies across the country.
In addition to this machine, often referred to as a snake or roto-rooter, there is something called a jetter or hyrdojet. This type of drain cleaning machine uses high powered water pressure to blast through clogs.
We believe blades and knives on a cable are the most effective against root intrusion in the sewer line. We also believe these snakes are best at clearing clogs – whether hair, food, scale or toilet paper. We use a jetter for jobs we think it is best for. In our experience, that is grease, core, mud, and sand.
How Does a Drain Line Break During Cleaning?
The blades on the end of the machine have a slight inward bend to them. They are sharp, and are often referred to as knives or blades and do exactly what you'd expect – they cut debris out of the line. These blades spin the circumference of the pipe, and should scrape the edges of the pipe clean.
On a main sewer line, a heavy duty machine is used with 4" blades, which matches the circumference of the sewer line. On inside lines, again the blades match the circumference of the line and range from 1 ½" to 3". Typically, a smaller machine is used for these lines.
Because the knives spin through the circumference of a pipe, the only way they are able to break a line is:
The line is damaged already and the machine catches that bad spot and makes it worse
The line is damaged already and the machine scrapes off the buildup that is holding things together
The line is improperly plumbed causing the machine to turn back on itself or go the wrong direction
Can a Plumber Break a Drain Line?
Yes, a plumber can break a drain line, but it is not caused by the use of a drain cleaning machine. A sewer snake can get "stuck in a line", and this can be due to an error by the drain technician.
Let's face it, everyone makes mistakes and even the most experienced drain techs can get a cable stuck. This could happen if they give too much slack, have a old or weak cable, or misgauge the feel on the cable while running it. Remember, when a drain cleaner is running your line, he is doing it blind. He can't see, he can only feel, smell, and look for clues based on how the water is draining and what he is pulling back.
Why Do Drain Lines Break?
Water is one of the most powerful forces on Earth. It built the Grand Canyon! Of course, the plumbing in your house isn't thousands of years old, but that doesn't mean water hasn't caused corrosion on your pipes. Plus, water isn't the only substance flowing through your drain lines.
Typically, we see drain lines fail when:
They have corroded from age
They have corroded from chemicals (use of chemical drain cleaners, water pH, etc.)
They have been impacted by root growth
They have been impacted by earth settling
They have been damaged by equipment such as from boring or trenching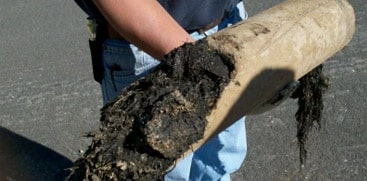 Who is Responsible for Broken Lines?
While there are times that a contractor is responsible for broken lines, you will find most have a Hold Harmless Clause for pre-existing conditions. Many homeowners simply don't understand how drain cleaning or plumbing works, and therefore don't understand the importance of preventive maintenance to reduce the chances of broken lines, either exposed through the drain cleaning process, or those that reveal themselves and require an emergency plumber.
Our Hold Harmless Clause states exclusions for our responsibility for damages caused because of pre-existing conditions and these include:
Leaking water pipes
Broken or damaged drain pipes
Plumbing code violations/outdated plumbing
Lead piping
Cast iron pipes
Galvanized pipes
Fixture damage such as cracks in toilets, tanks, supply lines or sinks
Hidden pipes such as bathtub p-traps and drum traps
Electrical lines and outlets – seen or unseen near plumbing
Other Dangers of Drain Cleaning
When a drain is cleaned, there is a chance that pre-existing conditions can be exposed, causing leaking and water damage. If a chemical drain cleaning product is used, such as those sold over the counter, like Drain-o or Liquid Plmbr, those can sit in the line and cause corrosion. High pressure water jetting can cause flooding if the lines are in poor condition.
However, the benefits of cleaning drains are significant. Left untreated, uncleaned drains can:
Cause sewage backups that negatively impact property and the health of the home's occupants
The inability to use the plumbing including not having running water
Sewage and sanitary issues
Complete blockage of the sewer or drain line which requires emergency repairs – failure to do so can make the home uninhabitable
Preventative maintenance is the key!
Preventative maintenance not only keeps roots at bay to prevent bigger problems, but also allows a review of your current plumbing systems to support repairs rather than replacement.
Cleaning is ALWAYS less expensive than replacing the line and can be done in almost all cases of blockages/ clogs. How often preventative maintenance is performed will depend on your unique situation. How often roots get in your line, how many people live in your home, the length of your line, the material your sewer line is made of, the age of your home and plumbing… these all play a part in determining the frequency of cleaning.
For most people, an annual cleaning, or cleaning every other year is sufficient. Our drain techs are experienced in making a recommendation after cleaning your line about the frequency to consider.
https://www.garvinssewerservice.com/wp-content/uploads/2021/10/thedangersofdraincleaning.jpg
533
800
Kris Jordan
https://www.garvinssewerservice.com/wp-content/uploads/2023/07/Garvins-Logo-Navy-2023-300x147.png
Kris Jordan
2021-10-25 08:00:40
2021-10-19 09:16:23
The Dangers of Drain Cleaning