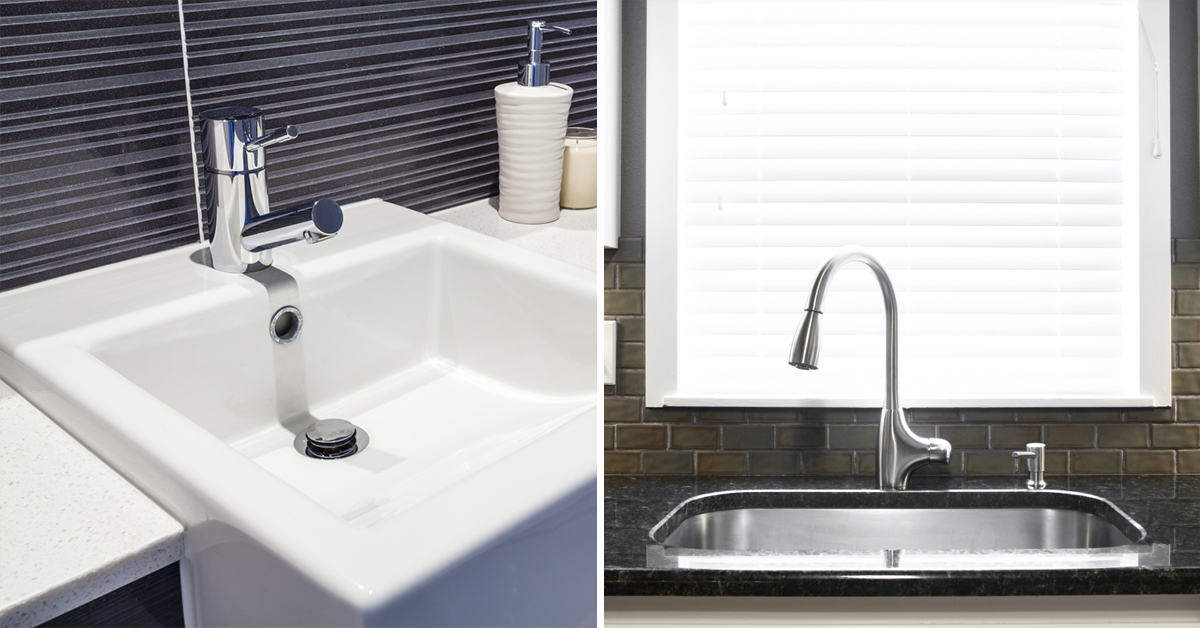 Not every plumbing service is about fixing your freshwater pipes or performing drain cleaning. Sometimes it's about installing new fixtures in homes, and our plumbers are more than up to the challenge.
Of course, the reasons people replace these parts of their home can vary, depending on the fixture at hand. Let's take a look at why people are having us replace the water-using devices in their homes.
Kitchen Faucets
Dishwashers are used after a meal, as is the kitchen sink for washing those items that can only be hand washed. But kitchen sinks are also used extensively before a meal. Think about all of the ways you use your kitchen sink. Boil a pot of spaghetti and you have to fill a large pot. Cut up some chicken and you need to wash your hands thoroughly. Grab vegetables from the crisper and you need to wash them before you use them in a meal. Kitchen sinks are used constantly, and that's why they eventually give out. Your local plumber can help install one that's even better than the last.
Of course, there are other advantages to having a kitchen faucet replaced. First of all, faucets of today are considerably more water-efficient than those from just 20 years ago, so you can save water by replacing them. You'll also be upgrading to a more modern design, which can spruce up your kitchen.
When you upgrade, you can also get features that you covet when you visit other people's homes. These include versions with pull-out nozzles so that you can more easily direct the spray and clean the sink. Many of these faucets also have at least two settings for the stream of water that is released, such as spray (for washing dishes) and normal (for filling glasses of water).
Oh, and let's not forget another cool feature you can look for: hands-free faucets! While these have been popular in public restrooms for years, they're making their way into kitchen so that you don't have to grab a handle with germ-laden hands in order to turn them on (remember that chicken you were cutting up earlier?). Some use sensors, while others turn on simply by touching the back of your hand to the faucet.
Bathroom Faucets
When you think about the amount of time you spend at your bathroom faucet, it's no surprise that it might wear out faster than some other fixtures. After all, you use your master bathroom sink(s) every time you use the toilet, but then you have to add to that the wear and tear from face washing, teeth brushing, and washing your hands whenever they get dirty.
Of course, there's also the style that comes into play. Many people wait until remodeling their bathroom to call a plumber to replace their sink faucets, but sometimes a simple change can liven up a bathroom and make it feel new again. This second option is certainly the cheaper option!
Shower Heads
Shower heads don't usually interest people as much as a beautiful new faucet does; there's just not a much put into their design, and they're hidden from most guests eyes.
But let's take a look at what new ones can offer. First of all there are the low-flow shower heads that we mentioned in our water savings blog. Older shower heads can us up to 5.5 gallons of water per minute, but today's showerheads can't legally exceed 2.5 gallons per minute. Because of the effectiveness of low-flow models, you'll get just as clean and use less water.
But what if you want a really fancy shower head? What if you're looking for a shower head that beats all the others? You might be interested in a shower panel. Shower panels don't just spray from an angle above your head, but instead spray you from overhead and all along your body down to you navel. When you have a regular shower head, you're only getting hit by the water from one angle, so there's always that cold spot on some part of your body. But with a shower panel you're being hit by warm water in more spots and, in most cases, from directly overhead. You'll be warmer than ever!
Oh, and did we mention that they're also water efficient? They have to be, as they're held to the same 2.5 gallon-per-minute standards of any new shower head. They simply direct the water more effectively before it heads down the drain.
Here's the great thing about having a showerhead that uses less water: when you use less water, you have to heat less water, and that means you're not only helping on your water bill but also on your natural gas bill. You can keep that Xcel Energy bill lower and reduce stress on your water heater at the same time.
Toilets
There are five good reasons why people call their local plumber to replace their toilets.
It's not a low-flow: We're all charged with using less water, and one way to do that is to reduce your gallons-per-flush. If your house was built before 1994, it's very likely that you're using too much water in your flushes. Call a plumbing company and you can start saving water and money right away.
If it's an early low-flow: The United States jumped on the low-flow toilet bandwagon in 1994, and such water efficiency has saved billions of gallons of freshwater. Unfortunately, the toilet industry wasn't quite up speed on a different type of efficiency: solid waste removal. Solid waste would often take multiple flushes to send on its way, negating the water savings. But toilet design got better, and today's toilets are much better at doing their job. But if your house was built around 1994-1996 and you don't think it works as efficiently as it should, you local plumber can replace your toilets with ones that move things along. (Oh, and they're even more water efficient than they were back then.)
If it's out of style: You know what? Toilets go out of style. Even the basic design changes over the decades, and colors do too. Some people call a plumbing company to change their toilets because they'd rather have one that's attached to the wall instead of the floor, making it easier to clean underneath.
It's Broken: Most homes are built with fair-at-best toilets. The homebuilder isn't going to install the best, because they're trying to save money. A few years later, toilets start to give out. Some people fight these cheap toilets for years. Seal rings disintegrate, chains break, float heads get misaligned and lead to perpetual leaks. So they take a trip to Home Depot and grab the part, only to have something else go wrong with it in a few months. After a while, it simply isn't worth it anymore, and that's when they give a plumbing contractor a call to have a replacement toilet installed.
It's Dirty: Okay, most people don't replace their toilets because they're dirty. But after a decade or more, the calcium deposits (scale) starts to build up and make the toilet look pretty bad. If you're not having any luck in cleaning it and it's embarrassing when you have guests over, be sure to call a local plumber and we'll replace your toilet. At the same time you'll be improving your water efficiency and getting a new toilet that won't need repair nearly as soon!
Phew, that was some blog! But there's a lot to say about the reasons that people call their local plumber to replace certain parts of the bathrooms and kitchens. Whether you're replacing all of them during a remodel and need extensive plumbing contractor work, or if you simply need that single fixture changed out, Garvins' is ready to help. Contact us for all of your plumbing services!
Garvin's Sewer Service
https://www.garvinssewerservice.com/wp-content/uploads/2023/07/Garvins-Logo-Navy-2023-300x147.png
Garvin's Sewer Service
2016-12-14 15:36:12
2016-12-14 15:36:12
Why Not Let Your Plumber Upgrade Your Fixtures?