An overlooked aspect of healthy plumbing and drains is your garbage disposal. When food and other miscellaneous items don't pass through a garbage disposal properly, the entirety of your kitchen sink plumbing can go down the drain pretty quickly (we're sorry). We have some tips to help you keep your garbage disposal in running order.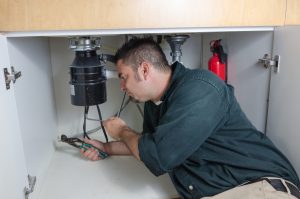 Use Cold Water When Running the Disposal
Cold water, not hot, will help you when using your garbage disposal. Hot water has several negative effects on a disposal, which includes the potential of overheating or allowing things like grease to continue to spread throughout the inside of your disposal. Instead, cold water will help food items remain in a solid state so it can be broken up by the blades with minimal resistance.
Avoid Fibrous Foods
Corn husks, banana peels, celery and other fibrous foods are the things you should avoid putting down the drain. When these and similar stringy foods are placed in your disposal, they are shredded and instead of being pushed through, they wrap around the blades. This buildup will also cause the line to become clogged and make your drain nearly useless.
Use Ice Cubes to Sharpen the Blades
Just like a knife, the blades in your garbage disposal need to stay sharp in order to remain effective. There are numerous solutions for this out there, such using egg shells. However, the inner membrane of the egg shell can cause the same problem of wrapping around the blades as things like corn husks and other fibrous foods. Instead, grinding ice cubes and even a bit of rock salt in your disposal will help sharpen the edges and, because the ice will melt, there is no fear of it clogging the line and becoming counterproductive.
Unfortunately, you can't always prevent drain clogging, garbage disposal issues, and other plumbing problems in your home. If these things do arise, Garvin's Sewer Service is here to help you with 75 years of plumbing and sewer expertise. Give us a call or fill out our free quote form today!
https://www.garvinssewerservice.com/wp-content/uploads/2023/07/Garvins-Logo-Navy-2023-300x147.png
0
0
Garvin's Sewer Service
https://www.garvinssewerservice.com/wp-content/uploads/2023/07/Garvins-Logo-Navy-2023-300x147.png
Garvin's Sewer Service
2016-10-17 14:30:37
2016-10-17 14:30:37
Keep Your Garbage Disposal Running