And Why it's Good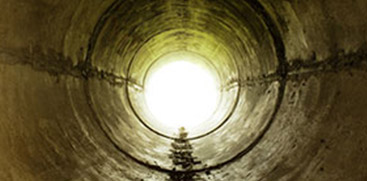 Nobody really wants to spend their time thinking about their sewer line. And, even as plumbers, we don't blame them. What's found underground is not for the squeamish and really shouldn't be mentioned in from of certain company. But come on now. We're all adults. We need to get real about taking a good look at your sewer line and why using a scope to do so is always a good idea.
A Precautionary Plumbing Tale
Take Tammy and Mark for example. When buying their new home, they decided to forego adding a sewer scope to their home inspection, thinking that the house wasn't all that old, so why pay that additional expense. Unfortunately for Tammy and Mark, the next buyers of that home weren't so trusting or lackadaisical. During the negotiation processes of transferring the house, the prospective owners DID decide to have their sewer scoped and lo and behold: the plumbing company found an eight foot crack in the main sewer line. The prospective buyers made the contract contingent on Tammy and Mark fixing the problem before the close of escrow, costing them more than $5,200. Had Tammy and Mark hired a plumber to scope the line before buying the property, they could have had the previous owner pay to have the crack fixed. Their oversight ended up costing them big time.
As Denver's local plumbing experts, we pride ourselves on professional plumbing services that exceed expectations. By offering to take a real good look at your sewer lines, we help you avoid both nasty messes and blunders that are both regrettable and financially painful.
Give us a call for sewer scoping services if you are looking to buy or sell a house or suspect that something amiss is going on with your pipes.
[uxi_button link="3035715114″ new_window="0″ tel="1″ class="button-33″ padding_x="" padding_y="" text="Get Scoped!" text_size="16″ text_size_mobile="" text_font="header-font" sub_text="" sub_text_size="12″ sub_text_size_mobile="" sub_text_font="header-font" icon="" icon_size="12″ icon_size_mobile="" icon_align=""]
https://www.garvinssewerservice.com/wp-content/uploads/2023/07/Garvins-Logo-Navy-2023-300x147.png
0
0
Garvin's Sewer Service
https://www.garvinssewerservice.com/wp-content/uploads/2023/07/Garvins-Logo-Navy-2023-300x147.png
Garvin's Sewer Service
2016-09-01 21:10:23
2016-09-01 21:10:23
Sticking a Scope in Unmentionable Places