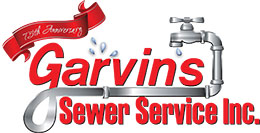 Every so often we like to respond to some of our customer comments regarding our sewer cleaning, rooter service, drain cleaning, and sewer camera services. Today we have a few people from along the front range who told us about their experience with Garvin's.
"Garvin's…came out because I had moved into a new home. There was a clogged tub. They got in there and got it unplugged. All was good. I had worked with Garvin's Sewer Service before on a rental property. I thought they were reliable."
— Ted K.
Thanks for giving us the positive review, Ted. Nobody likes dealing with a clogged tub when they move into a new home, because it's pretty obvious what's down there: hair that is slowly degrading over years until it stops the free flow of water. When this happens, you're suddenly sitting a tub that won't let our your water and might just allow some of what's disintegrating back up into your tub. Eww! It's bad enough if it's your own hair, but when it's someone else's it's the worst. Call Garvin's and we'll get to your drain cleaning right away.
"I called Garvin's Sewer Service because there was a sewer back-up in one of my rental properties. They got out there as immediate as possible and took care of it. The tenant was ecstatic about that. That's not the only time they've helped me out. I use them for my rentals but also personally. They are always prompt and courteous, and the communicate very well."
— Steve S.
We deal with rental properties a lot, because landlords and managers realize that we'll be there quickly. If your property becomes known as one with a lot of problems that aren't solved right away, the word will get around and you won't have as many tenants knocking on your door looking to rent. Steve, you mention that your client was ecstatic about us being there so fast, and it makes sense. After all, no tenant wants to see anything sticking around after they flush. We're happy to get out there and perform sewer cleaning and rooter service for your tenant, because we know if your tenant is happy, you will be too.
"We had contact with Brian, Matt and Eric who did the repair in a prompt professional and competent manner. We are very happy with the whole Garvin's experience and will no doubt recommend your services just like we got our recommendation to your organization."
— Tom, Denver
Thanks, Tom! You bring up an excellent point about "word of mouth." Someone you knew had a good experience with us. Now it's possible that it was a fellow business owner, or perhaps it was your mother. The fact is, small clients can lead to big clients, as it's pretty obvious from the number of Garvin's employees you encountered that your project was fairly large. And now you'll pass our good name along and we'll get even more business. It never hurts to be an honest business that does good work.
"I spoke to my neighbor after I saw your van in front of their house. He said that he used you last year on my recommendation, but got a $40 coupon from your competitor and called them first. He asked about cleaning out the main line and some additional line, and tried to get a quote on the phone. The guy quoted above $200 for the main line and said he would need to examine the other lines before quoting them once he came out. He kept asking how much it would be and the guy kept changing the price and asking "how much are you looking to pay?" He got tired of it and called Garvin's. The rep quoted the basic price for the main line and each additional line. He got them all done for less than the other guy quoted with the "coupon". Great work!"
— JD., Greenwood Village
Hey, look at that, more word of mouth from our sewer service clients! It's like it's important or something! We're certainly glad that your neighbor was happy with the price and the sewer cleaning, and glad that you talked to him. People are happy with us, and that's why it pays to be fair every time.
Thanks to everyone who wrote in. We're happy to be approaching our eighth decade of serving the Denver area with premium sewer cleaning and rooter service. For those of you without our magnet on your refrigerator, you can contact us here.
https://www.garvinssewerservice.com/wp-content/uploads/2023/07/Garvins-Logo-Navy-2023-300x147.png
0
0
Garvin's Sewer Service
https://www.garvinssewerservice.com/wp-content/uploads/2023/07/Garvins-Logo-Navy-2023-300x147.png
Garvin's Sewer Service
2016-04-20 20:57:19
2016-04-20 20:57:19
Time To Respond To Some More of Our Sewer Cleaning Reviews