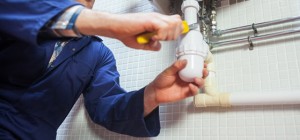 At Garvin's Sewer Service, we believe in being as upfront about everything as much as possible. For instance, we tell you that we're not going to charge you extra on weekends, we give you direct quotes on how much something should cost, and are going to be honest with you regarding what your home needs, whether you need simply drain cleaning, extensive sewer cleaning, or if you'll need to contact someone for sewer replacement. We're also not going to send down the sewer camera (an added charge) unless it's absolutely necessary.
Because we think it's important to be upfront with our customers, we have a Declaration of Service that we'd like to talk about. It's our way of telling you that you're getting the best from Garvin's every time. There are five basic parts:
When your serviceman arrives, he will be wearing a Garvin's uniform with a Garvin's logo patch and a name patch or badge.
We understand how awkward it can be opening the door to someone you've never met before. If you've called for sewer cleaning, you may already be in "frazzled emergency mode," and we want you to know exactly who you're opening the door for.
We make sure all of our service agents wear a Garvin's Sewer Service uniform with a name badge. This provides you with two pieces of information: first, it ensures that the person is actually from a licensed sewer cleaning company. Second, you can rest assured that the technician who has arrived has the entirety of Garvin's training. In other words, we're not sending third-party businesses to your door. We're sending Garvin's best.
Your serviceman will introduce himself and ask you about the problem(s) you are experiencing.
The introduction is important. If you missed the nametag the serviceman is wearing, it's a good auditory reminder so that you can make reference to him later (especially if you're writing us a thankful testimonial!)
It's also important that our serviceman talk to your about your problems. Though you might have talked to one of our representatives on the phone, details can get lost the more times the information is relayed. Tell them exactly what's happening, and please be completely honest about what happened just before the problem and if you've tried to fix it yourself.
You may ask for him to come in through an alternate entrance and/or to wear protective foot coverings.
Our service technicians are clean, but we understand if you just got new carpet if you'd like us to come in through the garage. We always have protective foot coverings at the ready if you'd like us to wear those. We're always out to make you feel comfortable in your own home and to protect your home as well.
After your serviceman evaluates the problem, he will return to his truck for the needed equipment.
There will probably be a few trips in and out to the Garvin's truck for equipment, parts, paperwork, or to contact the home office. Feel free to say"hi" to us as we're in and out, but we'll also understand if you want to be doing your own thing while we're taking care of your drain cleaning or sewer cleaning.
Your serviceman will use protective mats and, as needed, a protective cover on his machine(s) to keep your areas as clean as possible. Sometimes the access to the problem may require the technician to take his machine apart.
Let's be honest: we're a drain and sewer cleaning service. That means we're the experts at getting rid of stuff that you wish was already gone. Rooter service will be physically touching the blockage with its spinning blades, but we've also got the cleaning process of the equipment down to a science. We'll put down as much protective matting and covers as necessary so that the surrounding areas aren't contaminated. We know that cleanliness in sewer drain cleaning is something that people recognize, and will always go out of our way to protect your home.
We take our Declaration of Service seriously, because we think of our customers along the front range as our neighbors. Want to see our amazing customer service (and sewer cleaners) in action? Contact Garvin's Sewer Service, because we're ready to show you what we've got.
https://www.garvinssewerservice.com/wp-content/uploads/2023/07/Garvins-Logo-Navy-2023-300x147.png
0
0
Garvin's Sewer Service
https://www.garvinssewerservice.com/wp-content/uploads/2023/07/Garvins-Logo-Navy-2023-300x147.png
Garvin's Sewer Service
2016-04-12 17:42:50
2016-04-12 17:42:50
Breaking Down The Declaration Of Service For Our Drain and Sewer Cleaning Customers