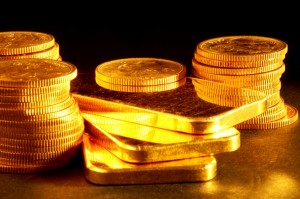 Okay, so let's say that you wake up tomorrow and there's a leprechaun sitting at the foot of your bed. And he has nothing to do with Lucky Charms.
Now, we'll pause for a moment to let you imagine that. (We'll also stop to let you wonder why someone would ever start a blog about sewer cleaning in that fashion.)
Okay, so he's sitting there and he says "You stole my gold, so I'm going to take away all of your utilities! Electric, water, heat, cable, internet, phone! All gone, hee hee hee."
But you tell him "wait a second, I never stole your gold!"
He chews on his tiny leprechaun pipe and says "You know what, maybe it wasn't you. But I'm still a jerk, so I'm going to steal all of your utilities save one! Choose which one you will keep!"
So you're thinking "I'd really like to drop kick this little twitwad, but there's a good chance that he'll put a curse on me or something." So maybe the thing to do is play his game. So you ask him if you can think for a few minutes, and while he watches The Price Is Right, you go over your options.
Electricity
How can you deal without electricity? The TV won't work, you won't be able to to use the coffeemaker or your lights!
On the other hand, TV isn't really all that important. You can grab coffee on the way to work. It's April, and the days are getting longer so that you won't need candles until after 8pm. Yeah, you can probably go without electricity for a while.
Heat
The fact is, neither of these is going to work without electricity. So you definitely shouldn't choose to keep your gas. Also, it being April and all, you're going to be okay for quite a few months until winter comes.
Cable
Seriously, when did this become a utility?! It's not, people! You should get rid of this one on your own without the leprechaun's help!
Internet
The internet is nice. It provides entertainment and allows people to work from home. It also helps in shopping and builds our economy. But without the electricity, your modem is dead even if you have a laptop. At least you can use your…
Phone
Your phone will help you get to the internet, and you can recharge it in the car or at the office. You can also read all of the blogs we've written about drain cleaning, sewer cleaning, and rooter service.
And technically a cell phone is not a home utility, so maybe the leprechaun will forget about this one. Anyways, would you really choose your phone over…
Water and Plumbing
C'mon, you knew this blog was heading here. Plumbing is obviously the most important utility you have. It brings you fresh water so that you can brush your teeth, lets you shower so that you don't offend your co-workers, and sends your morning business down the toilet. You can do the dishes, and since your washer doesn't work without electricity you can still hand wash a few choice items. Fresh water allows you to drink without getting sick or resorting to soda, and you know that plumbing and sewer service is what helps to keep you healthy and well.
Everybody Seen The Leprechaun, Say "Hey!"
So, you tell the leprechaun that you've made your decision. He tells you to wait until after the Showcase Showdown, and he yells at the contestant to spin again on 65 cents. You suggest that they stick, and he gives you a dirty look.
A few minutes later he asks what your decision is. You tell him that fresh water coming in and old water going out is more important that any other utility. And much like at the end of Indiana Jones and the Last Crusade, he says "You have chosen…wisely." At which point he vanishes in a puff of smoke. You get to keep everything!
You smile and walk into the bathroom, opening up your drawer. Ah, good, his gold is still there. You should probably be more careful the next time you steal a pot of gold; after all, you don't want to lose your plumbing and sewer service!
https://www.garvinssewerservice.com/wp-content/uploads/2023/07/Garvins-Logo-Navy-2023-300x147.png
0
0
Garvin's Sewer Service
https://www.garvinssewerservice.com/wp-content/uploads/2023/07/Garvins-Logo-Navy-2023-300x147.png
Garvin's Sewer Service
2016-04-10 15:45:23
2016-04-10 15:45:23
Can You Do Without Plumbing and Sewer Cleaning?