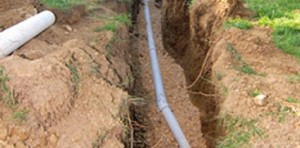 We talked in our last blog about the different options you might have when you need sewer line replacement. If you can't take advantage of a less invasive service such as sewer bursting or sewer lining, you might need sewer line replacement. Of course, the first step to finding out if you need sewer line replacement is to get a third-party opinion to verify that you need a replacement in the first place. Garvin's will send down the sewer camera to give you our professional opinion so that you have the best options available to you.
Now you might wonder why Garvin's Sewer Service is spending so much time talking about sewer line replacement, when what we really focus on is drain cleaning and sewer cleaning. Well, what it comes down to is our interest in the community; you're our neighbors, and we don't want you having to pay $15,000 when a $500 fix will do. We also don't want your yard to go through a catastrophic event if it doesn't need to. On top of that, we're interested in helping our colleagues in the sewer line replacement business keep their industry's good name as clean as possible, because less than reputable sewer line replacement companies have fooled too many people into getting new sewer lines they didn't need.
Who You Go With: We recently replaced a door handle on one of our vans. The first bid came in at $268 dollars. It seemed a little steep, so we decided to try someone else. That one came in at $220. We could have stopped there, but we tried one more place. $110. We went with this last one, and because of some work they had originally bid for didn't need to be done, the total bill was $96.
Now these were all reputable body shops in the area, according to internet research and Angie's List. But different companies have different needs, suppliers, rent costs, and attitudes about how they want to be perceived in the community.
All this to say you might get wildly varying bids from sewer replacement companies. Check around, make sure they're reputable, ask us…you might be surprised at the difference in bids.
Distance From the Street: If you live in a modern neighborhood, there's a good chance that you have a small front yard and that the amount of sewer line you're responsible for from your house to the public sewer line is a fairly short distance. If this isn't the case and the distance is greater there's a good chance you'll end up paying more. A longer distance means more pipe, more trenching, and more time removing the old pipe.
Tree removal: In the unfortunate instance that you need a tree removed, you'll incur that cost as well. It might be a service offered by the sewer replacement company or it might be something you'll need to contact a landscaping company about. And speaking of a landscape company…
Lawn Repair: Sewer line replacement destroys your lawn, from the trenching and from the treads of the trencher itself compacting your dirt. Some people are content to just throw some grass seed on top of the trenching line, while others will want to match the grass color and texture exactly. Settling of the trenching line might give you a low spot, or a high spot might need to be flattened.
But the Biggest Determiner of Price Is…: whether you need sewer replacement at all! We'll reiterate it: it's important to get a third-party's sewer camera down there to help you determine the best course of action. That's where Garvin's Sewer Service comes in.
Getting your sewer line replaced is a huge operation. But when it's over you may never need sewer cleaning again. In fact, because the PVC and ABS pipe used today will last right next to forever, it's (almost) certain you won't need to have pipe replaced again (barring the biggest earthquake Colorado's ever seen.)
We hope you don't need a full sewer line replacement. If you think you do, give Garvin's a call and our sewer scope can help you decide on our best option.
https://www.garvinssewerservice.com/wp-content/uploads/2023/07/Garvins-Logo-Navy-2023-300x147.png
0
0
Garvin's Sewer Service
https://www.garvinssewerservice.com/wp-content/uploads/2023/07/Garvins-Logo-Navy-2023-300x147.png
Garvin's Sewer Service
2016-03-20 18:09:20
2016-03-20 18:09:20
What Affects Sewer Line Replacement Costs?