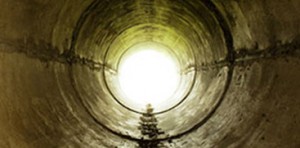 Here at Garvin's Sewer Service we don't replace sewer lines. We have to admit, we're pretty amazing at sewer cleaning, rooter service, and using a sewer snake. But when it comes to sewer line repair and replacement, we like to think of ourselves as a third-party consultant. In this way, you can know that when we use our sewer scope to identify the problem, we have no ulterior motives.
So, when you call Garvin's to give our professional opinion as to whether or not you need a new sewer line, what can happen?
Let us verify that regular rooter service is or isn't what you need: Some people have a backed up sewer line and immediately think that that's the end of their sewer line. What the hydro-hypochondriacs don't realize is that most sewer problems are taken care of with thorough rooter service. If that works, you might be good for years to come. If it works for only a short amount of time, then it might be time for…
Sending the Sewer Camera Down: Garvin's offers sewer camera service, which we also call sewer scoping. While it can be relatively expensive, it's an excellent way to find out what's going on in your sewer line. Since we're a third party, we can be completely honest about what we see. It can also give you a better indication of what you should do next.
Sewer Lining: Sewer lining might be an option for you, depending on how bad the break in your sewer line is. Sewer lining, also called CIPP (cured in place pipe), sends a resin-filled lining into your sewer pipe. The lining is then forced against the walls of the existing pipe with a bladder and hot water, and then in about an hour the resin hardens and the lining is permanently affixed to the inside of your old pipe.
Sewer Bursting: Sewer bursting sounds pretty dramatic, and that's because it is! A small pipe is sent through your old sewer line and then connected to your new sewer line waiting on the other end. The small pipe then pulls the new pipe through your old pipe, destroying it as it goes. Essentially, your old pipe simply becomes the guide for the new one and is bursted as the new one forces its way through.
Trenching and Replacement: If you're unaware of sewer lining or sewer bursting, you might think that trenching and replacement is the only way to go. However, there are times when those first two methods won't work. Severe breaks, like when part of the pipe has collapsed into a sinkhole and alignment is no longer possible, might require you to have your sewer line replaced. In this case your yard will suffer, as your old sewer line will have to be removed and a new one installed. Replacement is the most expensive option and the most destructive to your property.
Garvin's Sewer Service is always happy to check out your sewer system with our sewer camera, and if you need guidance on who to hire, we know of the companies that we'd trust with our own home. When you're having problems, give us a call and we can help guide you through the process.
https://www.garvinssewerservice.com/wp-content/uploads/2023/07/Garvins-Logo-Navy-2023-300x147.png
0
0
Garvin's Sewer Service
https://www.garvinssewerservice.com/wp-content/uploads/2023/07/Garvins-Logo-Navy-2023-300x147.png
Garvin's Sewer Service
2016-03-17 18:29:39
2016-03-17 18:29:39
After We've Verified That You Need Sewer Line Repair With Our Sewer Scope, What Are Your Options?