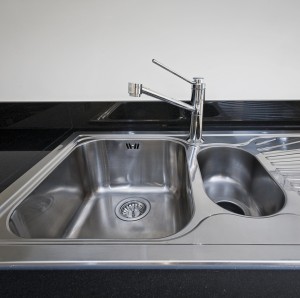 Let's say you finish doing your dishes and you reach over to flip the switch on the garbage disposal. But instead grinding for a couple of seconds and then letting everything swirl down the drain, dirty water jumps out of the other side of your sink. Or the water in the garbage disposal just sits there, refusing to go down either drain. You've got a clogged kitchen sink. How bad can it be?
Drain Cleaning: First, you'll probably try a plunger (which, as we've suggested before, is a "sinks only!" plunger that you keep under the sink, and you label it as such so that you're in-laws don't grab it and sulley it in the toilet.) If the plunger works and the clog stays away, then great… there's no need to give us a call. You might consider using a chemical cleaner, but please don't. They seldom work for long, and they can lead to dangerous situations when further action is taken by a professional. If the plunger doesn't work, contact Garvin's and we'll be there soon to take care of your drain cleaning needs. But what if your sink isn't the only problem?
Sewer Cleaning: If your sink is running slow, and then you notice that your shower drain and toilets seem to be running slow too, you're probably got the beginnings of a sewer problem. Sewer problems seldom, if ever, work themselves out on their own, and can get worse very quickly. Garvin's Sewer Service has all the tools needed for proper drain cleaning and rooter service, and we can do a one-time cleaning or come back for preventive sewer maintenance if you're having perpetual problems.
Sewer Repair: While Garvin's doesn't do sewer repair or replacement, we want you to know the options you'll have if you have a break in your sewer line. First, we can provide sewer camera service, also known as a sewer scope. Having us take a look at your sewer problems will give you an unbiased opinion as to what your options are and what the next steps can be. If you have a small break in your line, you might be a candidate for sewer lining, where a balloon inflates and lines your sewer pipe with epoxy. Another option is sewer bursting, where another pipe is slipped inside your existing pipe. However, if you've had a severe break your only option might be sewer line replacement.
Sewer Replacement: The most disruptive method of fixing your sewer problem is complete sewer line replacement. The lawn is disturbed, trees might have to be removed, and a trench is dug in order to take up your old sewer line and replace it with a new one.
Sewer problems can be as simple as a plunger or as complex as a $20,000 replacement. If the plunger doesn't work, contact Garvin's Sewer Service as soon as possible and we'll clean your pipes out or let you know of the best possible options.
https://www.garvinssewerservice.com/wp-content/uploads/2023/07/Garvins-Logo-Navy-2023-300x147.png
0
0
Garvin's Sewer Service
https://www.garvinssewerservice.com/wp-content/uploads/2023/07/Garvins-Logo-Navy-2023-300x147.png
Garvin's Sewer Service
2016-02-20 17:48:18
2016-02-20 17:48:18
You've Got A Clogged Kitchen Sink... How Bad Can It Be?