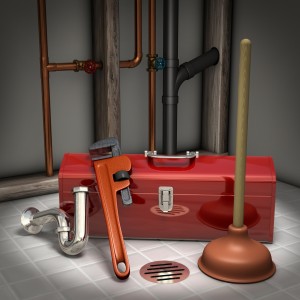 Simplify.
I put this word on my vision board this year and had no idea how it would come about other than to remind me to say "no" more.
And for those of you waiting to hear — HERE IS MY BIG NEWS:
I decided to simplify, get back to basics and close down the plumbing department for restructuring.
For years Garvin's has offered Sewer Cleaning and Plumbing services. Our drain cleaning department has usually had around 18 technicians and generates about 80% of our revenue. Our Plumbing Department has usually been about 5 technicians and has generated less than 20% of our revenue. To be absolutely honest, we have run in the red in our Plumbing Department for most months in the last 5 years (I can't speak to the time before I began and have never seen those financials).
We also have had 5 managers in that department during the same time. This has been mostly because, in my opinion, we never set a sound foundation — no goals, no clear strategies — frankly, it has been mismanaged and has not producing the level of skill and service our drain-cleaning customers had come to expect over the last 70 plus years.
And so, we are currently handling the following types of work:
As usual: Residential and Commercial Drain Cleaning and Sewer Scopes of all kinds
In addition, RESIDENTIAL PLUMBING SERVICES INCLUDING:
Toilets: Replacing wax rings, installing a toilet (including removing/replacing an existing one), toilet leaks, inside the tank issues, toilet seats and handles, supply lines and shut offs on the toilets
Sinks: Replacing pop-ups, p-traps and any pipes that can be seen
Kitchen Sinks: Install or replace disposal, p-traps and any pipes that can be seen and basket strainers
Water Heater replacements
Clean out installations will be on a case by case basis
Look for our New & Improved Plumbing Department re-launch in 2015!
Of course, if you have any questions about this change, or have comments, please contact our main office at 303. 571. 5114
Thanks!
Kris Jordan, GM
https://www.garvinssewerservice.com/wp-content/uploads/2023/07/Garvins-Logo-Navy-2023-300x147.png
0
0
Kris Jordan
https://www.garvinssewerservice.com/wp-content/uploads/2023/07/Garvins-Logo-Navy-2023-300x147.png
Kris Jordan
2014-02-25 17:17:57
2014-02-25 17:17:57
Simplify Simplify Simplifying our drain and sewer cleaning services