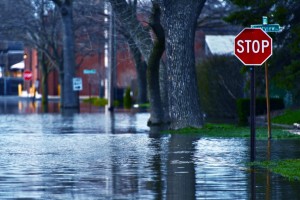 Water damage can happen after a water line break, heavy weather hits, sewer line or toilet backups, sprinkler issues and even, as a friend recently experienced, a fish tank mishap. Here's some tips on what to do to limit water damage:
1. Turn water off. If the source of water can be stopped, do that first. Stop using your water system as soon as possible in the case of a plumbing related issue.
2. Avoid danger. Be careful of electrical hazards, sagging ceiling panels and other damaged items that could become hazardous.
3. Call a professional. There are many service providers who can help fast. Plumbers, Insurance Agents, Restoration companies, etc. are here to help.
4. Dry it out. Remove as much standing water as possible from hard surfaces such as furniture legs and hardwood floors. The sooner you can begin the drying process, the less damage you will experience to carpet padding, drywall, furniture and more.
5. Get a water alarm. Water alarms are small devices that can be placed anywhere you don't want water damage. Many people place them near floor drains, under sinks, inside window wells, behind washing machines, etc. We sell them for $15, or you can find them at a hardware store.
If you need a Professional to help with any water damage issues, please check out our referral page or call us! (303) 571-5114
https://www.garvinssewerservice.com/wp-content/uploads/2023/07/Garvins-Logo-Navy-2023-300x147.png
0
0
Kris Jordan
https://www.garvinssewerservice.com/wp-content/uploads/2023/07/Garvins-Logo-Navy-2023-300x147.png
Kris Jordan
2012-01-31 20:24:13
2012-01-31 20:24:13
Drain Cleaning Can Reduce Water Damage